Welcome to GarageEnclosure.com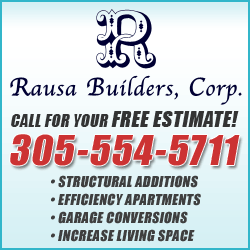 Enclosing your garage is the best place to start when wanting to increase living space to add square feet & comfort to your home. An average single car garage is big enough to add one additional bedroom and one bathroom to your home.
We have the local building code knowledge to assist you in making the best decisions in your garage conversion plans. Our experience with a wide variety of construction styles found in Miami is an advantage when optimizing your current garage conversion project to accommodate anything from an extra bedroom or family room to a small guest house or efficiency apartment.
GARAGE ENCLOSURE PLANS & PROCESS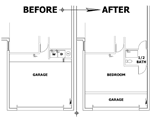 We attend to the needs of homeowners in expanding their homes to their expectations. Whether you need a garage conversion due to a growing family or just in need of entertaining space, Rausa Builders, Corp. is here to walk you through the process and turn your garage conversion plans into reality.
From helping you design your new additional living space to its complete development, we work hand in hand with owners in fulfilling their garage conversion needs. Our construction team consisting of certified contractors & residential architects are ready to implement your garage conversion ideas, click here to contact us for a free estimate.
ADD VALUE TO YOUR HOME
A standard single car garage in Miami can accommodate an extra bedroom and full bathroom or half bathroom. A properly constructed garage conversion not only adds livable area to your home but can also increase your property value and possibly bring in additional income as a small rental apartment!
COMMON REASONS FOR GARAGE CONVERSIONS
Guest House / Efficiency Apartment
In-Law Quarters
Caring For Elderly Family
Extra Bedroom & Full or Half Bathroom
Family Room or Playroom
Home Office or Study
Kitchen Utility Room Expansion
Home Cinema / Entertainment
Increase Your Home's Value!
GarageEnclosure.com is owned and operated by Rausa Builders Corp, a Florida State Certified General Contractor & Florida State Certified Roofing Contractor serving all of South Florida. Click here to visit our main website and preview all of our services including bathroom & kitchen remodeling, home additions, roof replacement and repairs.